Ngoc Pham, M.D.
Board Certified in Radiation Oncology by the American Board of Radiology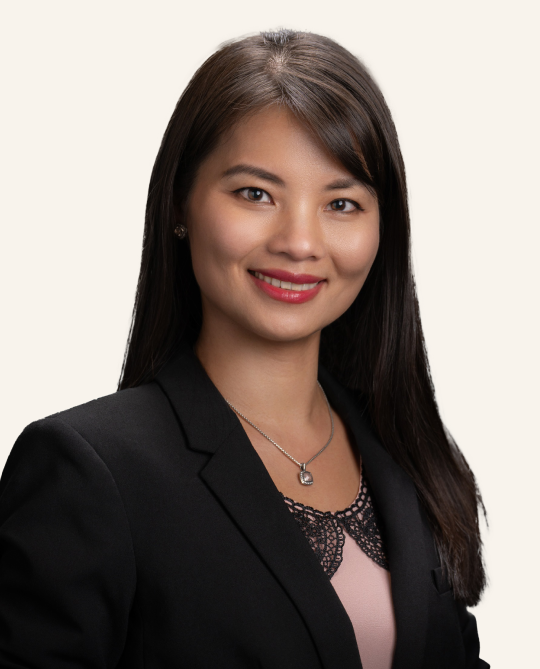 Dr. Pham specializes in radiation therapy cancer treatment and coordinates your cancer care with your primary physician and other oncology specialists. Board Certified by the American Board of Radiology (ABR) for Radiation Oncology, Dr. Pham earned her medical degree at the University of Texas Health Science Center Houston Medical School. Dr. Pham went on to complete her residency at Baylor College of Medicine in Radiation Oncology.
CLINICAL EXPERTISE
Gynecologic Cancer, Brachytherapy, Breast cancer, Brain cancer, Colorectal cancer, Head & Neck cancer, Lung cancer, Lymphoma, Prostate cancer, Intensity Modulated Radiation Therapy, Image Guided Radiation Therapy, Stereotatic Ablative Radiation Therapy.
EDUCATION
Undergraduate Degree: University of Houston - Houston, Texas
Medical School: University of Texas Health Science Center Houston Medical School - Houston, Texas
Residency: Baylor College of Medicine - Houston, Texas
AWARDS
Houstonia Top Doctor for Radiation Oncology
Top Doctor Award, 2020
Excellence in Research, First Place Presenter, Annual Baylor College of Medicine Radiation Oncology Research Symposium, 2018
Front page of the Medical Physics Journal (July 2017, Vol. 44, No. 7 Issue)
Best Abstract Award, American Society for Radiation Oncology (ASTRO) 56th Annual Meeting, 2014
Excellent Thesis Award, University of Houston, 2008
HOSPITAL AFFILIATIONS
Memorial Hermann Texas Medical Center, St. Joseph's Hospital
PUBLICATIONS
Lin T, Lin J, Wagner T, Pham N. Stereotactic body radiation therapy in primary hepatocellular carcinoma: current status and future directions. Journal of Gastrointestinal Oncology. Accepted May 30, 2018.
Pham N, Bonnen MD, Ghebre YT. Silent neoplastic cardiac invasion in small cell lung cancer: a case report and review of the literature. Am J Case Rep. 2018 May 3-;19:619-622.
Ngoc Pham, Joshua Asper, Mark Bonnen, Henry Mok, Timothy Wagner, Michelle Ludwig, Larry Carpenter, Pavan Jhaveri. Pre-treatment peer review: enhancing value through increased efficiency and effectiveness of radiation oncology peer review. Journal of Radiation Oncology. (2018) 7:97-102.
Anthony GJ, Cunliffe A, Castillo R, Pham N, Guerrero T, Armato S, Al-Hallaq H. Incorporation of pre-therapy 18F-FDG uptake data with CT texture features into a predictive radiomics model for radiation pneumonitis development. Med Phys. 2017 May;44(7):3686-3694
Cunliffe A, Armato SG 3rd, Castillo R, Pham N, Guerrero T, Al-Hallaq HA. Lung texture in serial thoracic computed tomography scans: correlation of radiomics-based features with radiation therapy dose and radiation pneumonitis development. In J Radiat Oncol Biol Phys. 2015 Apr 1;91(5):1048-56
Castillo R, Pham N, Castillo E, Aso-Gonzalez S, Ansari S, Hobbs B, Palacio D, Skinner H, Guerrero TM. Pre-Radiation therapy fluorine 18 fluorodeoxyglucose PET helps identify patients with esophageal cancer at high risk for radiation pneumonitis. Radiology. 2015 Jun;275(3):822-31.
Castillo R, Pham N, Ansari S, Meshkov D, Castillo S, Li M, Olanrewaju A, Hobbs B, Castillo R, Guerrero T. Pre-radiotherapy FDG PET presidcts radiation pneumonitis in lung cancer. Radiat Oncol. 2014 Mar 13;9:74
Chu J, Pham NT, Olate N, Kislitsyna K, Day MC, LeTourneau PA, Kots A, Stewart RH, Laine GA, Cox CS Jr, Uray K. Biphasic regulation of myosin light chain phosphorylation by p21-activated kinase modules intestinal smooth muscle contractility. J Biol Chem. 2013. Jan 11;288(2): 1200-13.