Munaf Alkadimi, M.D.
American Board of Internal Medicine, Board Certified in Medical Oncology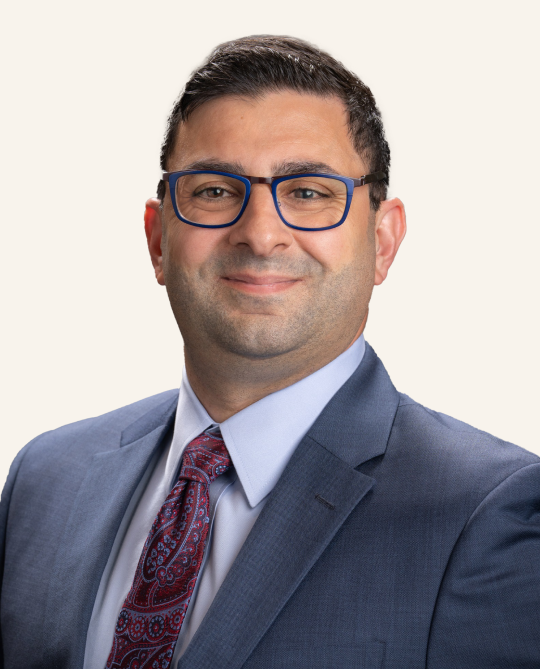 Dr. Alkadimi is a member of the American Society of Clinical Oncology, American Society of Hematology, and the Texas Society of Clinical Oncology.
CLINICAL EXPERTISE
Lung cancer, Colorectal cancer, Multiple myeloma, Breast cancer, Genitourinary cancer, Myeloproliferative neoplasms and bone marrow disorders, Leukemia, Lymphoma, Hepatobiliary cancer, Pancreatic cancer, Gastric cancer, Esophageal cancer, Benign Hematology, Clinical research.
EDUCATION
Medical Degree: Al-Nahrain University, College of Medicine - Baghdad, Iraq
Residency: University of Chicago - Evanston, Illinois
Fellowship: University of Texas Health Science Center - San Antonio, Texas

AWARDS
Merit Award, ASCO, 2022. Fellow Award, Texas Society of Clinical Oncology, 2022 & 2023.
Best in Texas Magazine/Doctor edition: 2023 Excellence in Medicine
MEMBERSHIPS:
American Society of Hematology, American Society of Medical Oncology, Texas Society of Clinical Oncology, Texas Medical Association, and the National Arab American Medical Association
HOSPITAL AFFILIATIONS
HCA Medical Center, Memorial Hermann Texas Medical Center, St. Luke's Episcopal Hospital, Memorial Hermann Northwest Hospital, Cornerstone , Kindred Hospital Houston Medical Center, University General Hospital, Park Plaza Hospital, St. Joseph's Hospital, Methodist Hospital - Texas Medical Center.
PUBLICATIONS
Moore AM, Nooruddin Z, Reveles KR, Datta P, Whitehead JM, Franklin K, Alkadimi M, Williams MH, Williams RA, Smith S, et al. Durvalumab Treatment Patterns for Patients with Unresectable Stage III Non-Small Cell Lung Cancer in the Veterans Health Administration (VHA): A Nationwide, Real-World Study. Current Oncology. 2023; 30(9):8411-8423. https://doi.org/10.3390/curroncol30090611